Android Security Symposium 2017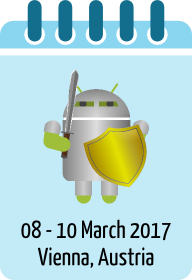 The Android Security Symposium is organized by the Josef Ressel Center u'smile at the University of Applied Sciences Upper Austria in cooperation with SBA Research and the Institute of Networks and Security (INS) at Johannes Kepler University Linz.
Latest updates
Want to become a sponsor?
Help us to provide the event free of charge to all participants by becoming a sponsor. Various sponsoring opportunities are still available. Contact symposium@usmile.at if you are interested in becoming a sponsor.
Voices from 2015
"The Android Security Symposium was pretty much one of the best security conferences I ever attended. It was not only organized and run very professionally but the caliber of speakers and the facilitated networking was fantastic." (Andrew Hoog)
"Thanks! We had a great time and really enjoyed the conference." (Josh Thomas)
"very cool, thank you! Already looking forward to next event." (Participant)