Android Security Symposium 2015
New website: Android Security Symposium 2020
The first Android Security Symposium took place in Vienna, Austria, from 9-11 September 2015.
This symposium brought together 150 people from academia, industry, and the rooting/exploiting community who are interested in Android device security. The event featured exiting expert talks on topics around the Android security architecture, trusted computing concepts, usable security for everyone, malware analysis, and countermeasures. In addition there was a PhD school where doctoral candidates had an opportunity to present their current research ideas.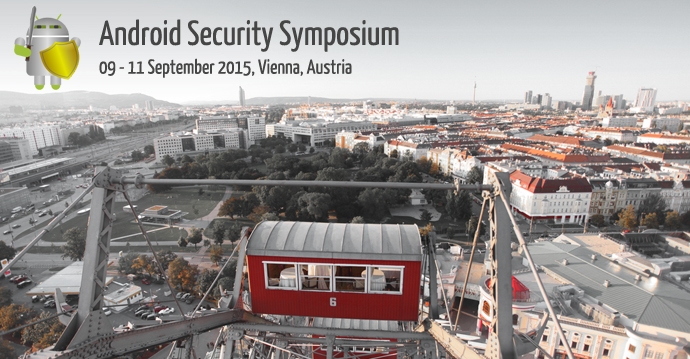 Photo: Jessmine/Shutterstock.com. The Android Robot is modified from work created and shared by Google and used according to terms described in the Creative Commons 3.0 Attribution License.
The Android Security Symposium was funded by the Christian Doppler Forschungsgesellschaft (CDG) and organized by the Josef Ressel Center u'smile at the University of Applied Sciences Upper Austria in cooperation with SBA Research and the Institute of Networks and Security (INS) at Johannes Kepler University Linz.
Voices from 2015
"The Android Security Symposium was pretty much one of the best security conferences I ever attended. It was not only organized and run very professionally but the caliber of speakers and the facilitated networking was fantastic." (Andrew Hoog)
"Thanks! We had a great time and really enjoyed the conference." (Josh Thomas)
"very cool, thank you! Already looking forward to next event." (Participant)