Android Security Symposium 2015
How Google killed two-factor authentication
About the speaker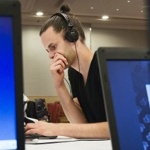 Victor van der Veen
VU University Amsterdam
,
Amsterdam, Netherlands
Victor is a PhD candidate in the System and Network Security Group at the VU University Amsterdam where he also obtained his MSc. degree in Computer Science in August 2013. He is currently under the supervision of prof. dr. ir. Herbert Bos.
His research focuses on - but is not limited to - malware on smartphones and is part of the Dutch-American Project Arrangement about cooperative research and development on cybersecurity. Besides mobile malware, Victor is also interested in low-level system topics that enhance system security, as well as reverse engineering and analyzing malicious code. His previous work involves an in-depth analysis on trends in the field of memory errors.
Abstract
The velocity of change in the mobile ecosystem requires a new techniques to secure mobile devices. This talk will explain how we can address this challenge by combining global data from mobile devices and app store metadata with static, forensic and dynamic app analysis to create a powerful, data-centric approach to mobile security.
Slides
Get the slides on prezi.com. (Or get the PDF version here.)
Video