Android Security Symposium 2017
Coffee Break Sponsor: Grant Thornton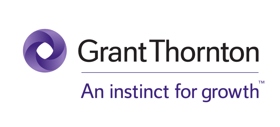 The explosion of data generated by digital technology, combined with a new degree of connectedness among organisations, means that there is ripe opportunity for the technologically savvy and criminally minded to take advantage. Cyberattacks are more focused, skillful and ambitious. Geographical borders are meaningless. Regulators and stakeholders are increasing the pressure on organisations to manage these risks and cybersecurity is now a top of the boardroom agenda.
Our highly experienced teams support our customers in all IT-security and -forensic belongings.
We help you understand your current exposure to cybersecurity risk and support you to develop an effective security capability. Our services include cybersecurity, risk and threat assessments; security policy development; security process or technical assessments; and third-party cybersecurity assurance.
We develop and implement the technical framework and broader processes required to protect. We can help you with security architecture; security technology implementations; security process design and implementation; identity and access management; privacy and data protection; data classification; enterprise application integrity; business continuity and disaster recovery; and penetration testing.
We work together with you to support and monitor your cybersecurity operations and help you to respond rapidly and forensically in the event of a security or data breach.
Grant Thornton combine the agility of a medium-sized company with a strong international network, making us a reliable partner for dynamic international and national companies. With 140 staff members, Grant Thornton Unitreu is one of the leading companies in the fields of audit, tax-advice, outsourcing and advisory services in Austria.
Grant Thornton Unitreu GmbH is the exclusive member firm of Grant Thornton International Ltd. In Austria. Our partners and teams invest the time to truly understand your business, providing real insight and a fresh perspective to keep you moving. Grant Thornton is the sixth largest organisation of auditing and consulting companies worldwide. The independent member- and correspondent firms are active in more than 130 countries with 742 offices and 47.000 staff members. The members offer international services for medium-sized and multinational capital-market-oriented clients.